Miami Herald | By Omar Rodriguez Ortiz | February 3, 2022
The Broward School Board Wednesday narrowed its list of finalists for a new school superintendent to two, including the district's interim superintendent and a retired Air Force colonel who has had a career in education.
After about four hours of interviewing the top three candidates and hearing from the public, the nine board members chose Vickie Cartwright and Michael Gaal to proceed to the next round of interviews.
Each of the board members voted for their top two choices.
Cartwright — whom the Board chose as interim in July with a $275,000 contract — received nine votes. Gaal, who retired as an Air Force colonel after 25 years and is the former president of sales of Beable Education in New Jersey, received seven.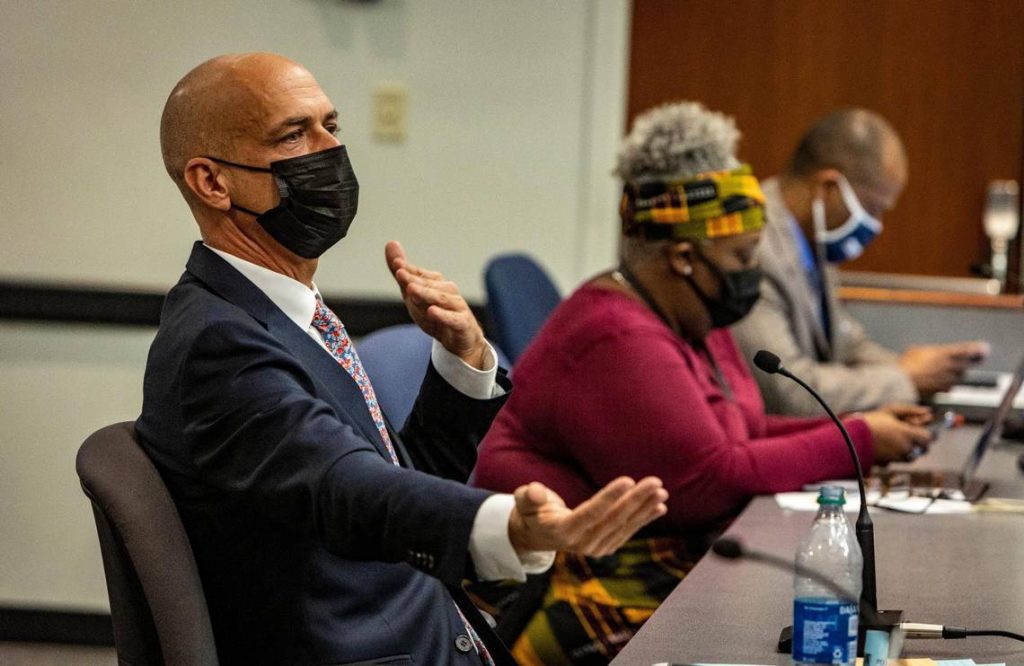 Quintin Shepherd, a superintendent of a small Texas school district, was eliminated after receiving only two votes.
"I think I can say on behalf of all of us that we appreciated the three semi-finalists that we had today in sharing what their view would be for our district," said Chair Laurie Rich Levinson.
Here's how each board member voted:
▪ Ann Murray, District 1:Gaal, Cartwright
▪ Vice Chair Patricia Good, District 2: Cartwright, Gaal
▪ Sarah Leonardi, District 3: Cartwright, Gaal
▪ Lori Alhadeff, District 4: Gaal, Cartwright
▪ Rosalind Osgood, District 5: Cartwright, Shepherd
▪ Chair Laurie Rich Levinson, District 6: Cartwright, Gaal
▪ Nora Rupert, District 7: Cartwright, Shepherd
▪ Donna Korn, at-large: Cartwright, Gaal
▪ Debra Hixon, at-large: Cartwright, Gaal
On Feb. 8, each board member will meet privately with Cartwright and Gaal. At 7 p.m., the board will conduct a final round of interviews during a public meeting in the auditorium of Plantation High School, 6901 NW 16th St.
At 10 a.m. on Feb. 9, the board will meet again to make a final determination.
TALK OF SCHOOL SAFETY, CLOSING ACHIEVEMENT GAP
The superintendent candidates were asked the same nine questions, ranging from school safety and mental health to closing the achievement gap among students of different backgrounds.
To improve school safety, Cartwright said it is key to build relationships with law-enforcement agencies across the county and to make sure emergency plans are set in place.
After the Marjory Stoneman Douglas High School shooting, where former student Nikolas Cruz shot and killed 17 students and faculty members on Feb. 14, 2018, Cartwright — who at the time was an associate superintendent of Orange County Public Schools in Central Florida — said she looked into her district's emergency plans.
"I was on the original team that helped stand up our safety efforts," she said.
Gaal said school safety is not only about installing physical barriers to stop active shooters, but that it is also about mental health, including identifying students and adults who are in distress.
He also said districts must develop relationships with police, identify and support families who are at risk of becoming homeless and monitor students' use of social media through crowdsourcing methods.
"We have to be able to identify students and, or adults who are feeling stressors very early on," he said.
About mental health, Cartwright said it is important to not only strengthen services, but to make sure students and parents know that these services are available.
"The last thing we want to do is have resources available and no one knows about them," she said.
The School Board is also seeking a superintendent with experience in supporting a diverse student body.
Cartwright said the first step is bringing awareness to the issues they care about through student-led organizations. When Cartwright was the superintendent of the Oshkosh Area School District in Wisconsin, her team revised the student dress code after they encouraged students of colorto explain to adults why they sometimes wear head pieces of different colors, she said.
Cartwright also said she also worked with a nonprofit organization to provide services to students of the LGBTQ community, including shelter and mental health support.
"We empowered them to have a voice," she said.
Gaal said that a way to support diverse students is to make sure school districts are not inadvertently spending more money in communities of certain demographic backgrounds over others, like he said he saw when he was chief of staff in the Oakland Unified School District in California.
"By the time I left, we had started to create specific funding outside of the first group of children that we seek to represent to ensure that all students who needed more, who needed special affinity groups, had the opportunity to do that," he said.
To close the achievement gap, Cartwright said data should be used to make decisions like continuing tutoring and Saturday school programs.
In Broward County public schools in the 2020-21 school year, Asian students had the highest graduation rate of 96.3%, records show, followed by 96.2% of Native Hawaiian students, 92.7% of white students, 89.1% of Hispanic students and 86.6% of Black students.
In Orange County, Cartwright said, behavior modification programs, among others, prevented students from being removed from their home classrooms and improved their educational achievements.
"Orange County was ultimately one of two large urban districts that continued to meet expectations," she said.
Gaal said he has found in other districts that what is being taught to students is sometimes different from what they are being evaluated for, causingschool administrators to chase goals that were not being measured. He also said he would select the district's "strongest teachers" to offer them additional certifications.
"Broward County public schools should be an A district," he said.